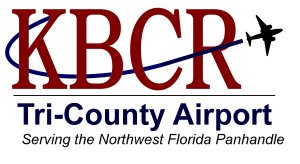 New FAA Airport Identifer
On December 2, 2021, the Tri-County Airport changed its FAA airport identifer-- "KBCR" replaced "1J0". This new FAA identifier was due to the hard work of many people and reflects many of the postive changes at the airport, including our new 5398-foot runway, automated weather and a planned second instrument approach. As you may have already noticed, we were also approved to use this new identifier for our website name as well. We're pretty exciting about the change, hope you are as well. If it will help you to remember our new identifier, perhaps try thinking "Bonifay Chipley Region".
What other changes have been made recently? And what do we have planned?
A new RNAV 01 instrument approach procedure was released December 2, 2021.

Our automated fuel discounts for tenants have been streamlined.

Major improvements to our terminal building, new parking and gate access, improvements to our electrical system and a stormwater migigation project are planned beginning in 2022.

We recently have switched from paper lease agreements to electronic lease agreements, greatly streamlining the process of hangar and tie-down rental. On or before October 1, 2021, our lease applications will also go online.
We're excited about the new changes- hope you are as well!
Ross Statham, webmaster rstatham@kbcr.gov

Tri-County Airport
PO Box 756, Bonifay, FL 32425
1983 Tri-County Airport Road, Bonifay, FL 32425

Mark Wilson, Airport Manager (850) 547-6519